Decking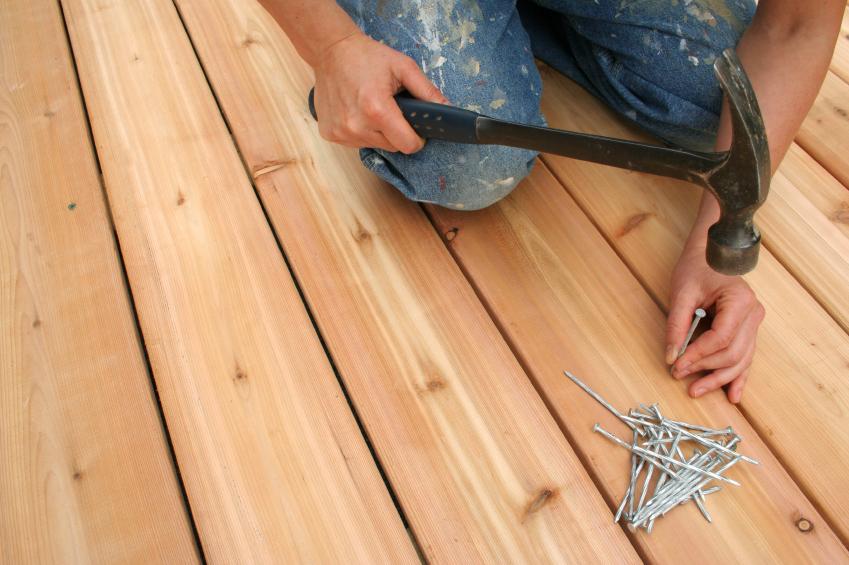 "What type of licence does a deck builder need?" is a common question. The answer depends on a number of factors, some of which include:
The size of the deck
The height of the deck
Local council regulations
State licensing authorities
If planning approval or a council permit is required, you will probably have to hire a licensed builder to build your deck. If the deck is at or near ground level and is less than 25 square metres in size, you may not need council approval, but if the height of the deck poses a potential safety hazard or the size of the deck potentially has a visual or environmental impact, you probably need planning approval and/or a building permit.
Licensing of Decking Builders
No state has a specific decking licence, but individual states will have differing builders' licence regulations for decking builders. In one state, a builder may be able to construct a deck for you if they hold a restricted building licence. In another state, only fully licensed builders may be allowed to build decks. Scroll down to our Decking by State entries below for more information about decking builders in your state.
Types of Decking Jobs
Decking jobs range in size and complexity from a small deck at ground level just big enough for a chair or two to a large deck surrounding a swimming pool. Some decks come in kit form and can arguably be a DIY project, while others require all the skills of a master builder in order to be safe, sound and aesthetically pleasing.
Decking - NSW
NSW has some of the strictest builders' licence regulations in Australia. Builders' licences are issued by the NSW department of Fair Trading and by law, any residential building work that exceeds $1,000 in value, inclusive of labour and materials, must be carried out by a licensed builder.
If you want to build a timber or composite deck, materials alone will probably cost at least $1,000, so you will probably need to hire a licensed builder for your deck in NSW.
When hiring a licensed builder in NSW, also keep in mind that they may need more than one type of trade licence. For example:
The person in charge of supervising the work will need a Qualified Building Supervisor licence.
The individual or company you contract to carry out the work will need to have a Contractor's Licence.
Building partnerships and companies in NSW must appoint Nominated Supervisors in order to carry out any kind of building work, including decks.
Decking - Victoria
In Victoria, a registered Building Practitioner is required to carry out residential building works in excess of $5,000, including labour and materials. There are a few exceptions to this rule, but they are for non-structural building projects such as the installation of awnings or windows only.
There are three types of builders' registrations in Victoria:
A Domestic Builder – Unlimited (DB-U) can carry out all types of domestic building works.
A Domestic Builder – Limited (DB-L) can carry out building works of limited scope. A DB-L licence may be all that is required if your deck does not require the additional skills of a DB-U.
A Domestic Builder – Manager (DB-M) can manage and oversee work carried out building work, but cannot do decking or other building work.
In Victoria, a registered Building Practitioner does not have to hold a Contractor's Licence. Your contract will be legally binding to both of you, though, so make sure the contract for your decking project is complete and comes with a materials and workmanship warranty.
Decking - Queensland
In Queensland, a building permit is required to carry out all building work in excess of $3,300 (labour and materials), including decking and other minor renovations. A building permit will not be issued if you do not hire a licensed builder or have an owner-builder permit.
While it may be possible to have a small deck built by an unlicensed builder in Queensland, it is not advisable because if anything should go wrong, your only legal recourse is through the courts. A licensed builder, on the other hand, must obtain their licence from the Queensland Building Services Authority (BSA) and will be held accountable to the BSA.
A number of building licences are available in Queensland. A decking builder may have an unrestricted or a restricted builder's licence. As long as their licence authorises them to build decks, you can hire them with confidence. Their licence is your assurance that they have proven their ability to build structurally sound decking.
Decking - SA
In South Australia, a "deck" is defined as any horizontal platform attached at ground level. A deck can be free-standing or attached to a building. Decking construction in SA can only be carried out by or under the supervision of at least one of two categories of builders licensed by the Consumer and Building Services (CBS) sector of the South Australian Attorney General's Department:
A Building Supervisor is authorised to supervise work carried out by others.
A Building Contractor is authorised to enter into contracts, carry out work and supervise the work of other tradespersons.
A Building Contractor must also be registered as a Building Supervisor and if a contractor does not directly supervise building work, they must nominate a registered supervisor to oversee construction.
In South Australia, both general and specific building licences are available. Be sure your decking contractor holds both a contractor's and a supervisor's licence for either unrestricted residential building work or work specifically related to decking.
Decking - WA
In Western Australia, you must obtain a building permit to install decking. Unlike other states, a licensed or registered builder is not required to build a deck in WA, but their work must be supervised or sub-contracted by a registered Building Contractor. An exception is if the total cost of the work exceeds $20,000. Building work in excess of this is considered major work and must be carried out by a registered Building Practitioner.
As an owner-builder, you can build a deck without supervision in WA, but not until you have submitted detailed plans to your local council for Planning Approval and a Building Permit. The plans must meet or exceed Building Code Australia (BCA) standards and after your Building Permit is issued, your decking will have to be inspected to ensure it adheres to BCA standards and local council regulations. As an owner-builder, you are:
Legally responsible for the project from the planning staging to a period of six years following the completion of the project.
Legally liable if the project does not conform to building standards and regulations.
For these reasons, it's advisable to hire a registered Building Contractor for your decking project.
Decking - Tasmania
In Tasmania, the Department of Justice governs building work and issues accreditation to builders. There are four classes of accreditation in Tasmania. Two of them, Builder and Construction Manager, may apply to your decking builder.
In addition to proving they are qualified to supervise and/or carry out building work; Building Practitioners in Tasmania must also:
Have current Public Liability Insurance and
Professional Indemnity Insurance.
A building permit is required for construction of decking in Tasmania. Hiring a qualified Building Practitioner is your assurance that you will obtain a building permit and that your builder is competent and insured against any mishaps that occur while you deck is being built.
Building Practitioners in Tasmania must renew their licences yearly. Part of the renewal process includes proving they have undergone Ongoing Professional Development (OPD) training, so hiring a registered Building Practitioner in Tasmania also means they will be up-to-date with current building standards and practices.
Decking – ACT
Decking is considered part of the building trade in the ACT. There are four classifications of Builders in the ACT. With the exception of handling asbestos and some specialised work:
A Class A Builder (unlimited) can undertake all types of building work.
A Class B Builder (medium rise) is restricted to work on buildings 3 storeys or lower in height.
A Class C Builder (low rise) can perform building work on structures 2 storeys or lower. Class C builders also are limited to building work on a restricted number of residential building classes and non-habitable structures such as garages, carports and sheds.
Class D Builders are authorised to do non-structural building work only.
In addition, a builder's licence in the ACT may be restricted to certain types of building work. Your deck builder's Construction Occupation Licence, issued by the ACT Planning and Land Authority (ACTPLA), will clearly state:
Their name
Their classification (A, B, C or D)
A licence number
Their occupation (Builder)
The period of licence validity
Any Building Code of Australia (BCA) restrictions or endorsements that apply to their licence.
In most cases, your decking builder will probably hold a Class A, B or C licence and their licence may be restricted to decking and/or other specific types of building work. Unless a Class D builder is endorsed specifically for decking work, their non-structural licence alone is not sufficient to carry out decking construction, which is load-bearing. By definition, load-bearing construction is "structural."
Decking - Northern Territory
In the Northern Territory, a building permit is required before you can build a deck. In order to receive a building permit, you must submit detailed plans and other evidence that your proposed decking will comply with BCA standards and any additional NT or local standards or regulations.
Although a licensed building contractor is not required to build a small deck or veranda, employing a licensed builder will ensure your plans comply with all relevant building standards and regulations.
The Building Practitioners Board registers builders and monitors their activities in the NT. Look for a builder who holds a Building Contractor (Restricted) licence or a Building Contractor (Unrestricted) licence. Either one will be qualified to build your deck for you.