Painters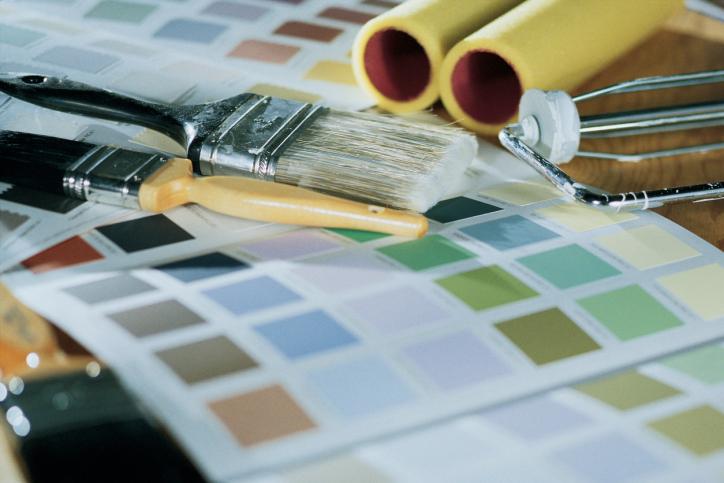 Your new home or renovation isn't complete until it's painted. Professional painters are the experts who bring your home's exterior and interior to life with paint and other finishes.
Licensing of Painters
Painters aren't required by law to be licensed for their profession in all states, but hiring a painter who does not have professional qualifications or insurance is risky wherever you live.
Read more about licensing of plumbers where you live in our state overview.
Types of Painting Jobs
New types of paint and painting techniques have changed painting from the old image of a bucket of paint, a roller and a brush to a more technical occupation. When you talk to your painter today, you'll discuss a number of options that weren't available in the past. Besides oil and water based paints, your painter might recommend:
Environmentally friendly low or no VOC paints
Highly durable epoxy paint for your floors
Spray painting your fence, roof or other surface
Special finishes
The best stain and/or sealer for your deck
The most effective protective finish
Wallpapering rather than painting
A professional painter also knows that surface preparation is one of the keys to a long-lasting, beautiful painted finish. They use a number of techniques to safely and thorough remove old paint, repair the surface where needed and apply undercoating or a surface sealant when necessary.
Painting - NSW
In New South Wales, a painter is required by law to have a painters licence if:
The cost of a job is greater than $1,000, including labour and materials
They advertise their services as a painter
A painter enters into contracts with clients
They hire subcontractors to carry out work
If a painter advertises or enters into contracts, they must have a Contractor's Licence.
Painters' licences are issued by the NSW Department of Fair Trading. Before a licence is issued, the applicant must provide they have received Certificate III training in Painting and Decorating from a recognised training institute such as TAFE.
Painting - Victoria
In Victoria, the Building Practitioners Board (BPB) regulates the building industry. All building work over the value of $5,000 (materials and labour) must be carried out or supervised by a builder who is registered with the BPB. The only exception to this rule is practitioners who carry out only one specific type of work.
Painting often requires a variety of skills and many painters in Victoria hold Domestic Builder – Limited (DB-L) cards with an added "Q" code to indicate they are authorised to carry out "Sundry works" that include painting, plastering and related activities associated with their trade.
If painting is their sole occupation, your painter may not be a registered building practitioner. If that's the case, be sure they:
Have a business licence if they operate under a business name
Carry liability insurance
Can offer you proof of competence
Proof of competence can be in the form of a trade certificate, verifiable references, photographs of previous work and/or affiliation with a professional association such as the Master Painters Association.
Painting - Queensland
In Queensland, a trade licence is required for any painting work exceeding $3,300 in value, inclusive of labour and materials. The Queensland Building and Construction Commission (QBCC) issues licences to qualified tradespersons.
In Queensland, a painter's licence is specifically called a "Painting and Decorating Licence." It authorises the licence holder to:
Apply paint or another substance to protect or decorate a surface or for technical purposes
Prepare surfaces for the application of paint or another substance
Apply wallpaper
Apply textured coatings
In order for a painter to qualify for a Painting and Decorating Licence, they must provide proof of competence such as a Certificate III in Painting and Decorating or completion of an apprenticeship with a licensed painter.
If a painter enters into a contract with you, they must hold a Contractor's Licence. If they supervise work as an employee of a licensed company, they must hold a Nominee Supervisor licence. If your painter supervises work on behalf of an individual contractor, they must have a Site Supervisor licence.
Painting - SA
Painting work in South Australia is governed by Consumer and Business Services (CBS). Two trade licences apply to painters:
Painting
Painting & Decorating
A Painting licence authorises the holder to do general internal and external painting. To obtain a Painting & Decorating licence, the applicant must undergo Certificate III training in specialised painting and decorating treatments.
In addition, there are two types of Painting or Painting & Decorating licences:
A Contractor's licence authorises the holder to advertise their services and enter into contractual agreements.
A Supervisor's licence authorises a professional painter to supervise work carried out on behalf of a contractor.
Painting and Painting & Decorating licences in South Australia are sub-categories of "Building Work." A painter may have a licence limited to Painting or Painting & Decorating only or also have a licence that allows them to do floor finishing or other related jobs as well.
Painting - WA
The Building Commission of the Western Australia Department of Commerce issues Painters licences in this state. Before a prospective painter can apply for their licence in WA, they must first take a Painters Registration Course that includes training in:
Small business legal and risk management
Cost estimating
Surface preparation for painting
A Painter's Practical Trade Test
After successful completion of the Painters Registration Course, a painter can apply to be registered as a:
Painting Practitioner or
A Painting Contractor
One of these licences is required for all painting work valued over $1,000 (labour and materials).
Painting - Tasmania
Although a painting trade licence is not required by law in Tasmania, responsible painters take measures to ensure they protect their businesses and customers in a variety of ways. When you hire a painter in Tasmania, they should:
Have an Australian Business Number (ABN) if they are an individual
Be a licensed business if they have employees
Be insured
Ín addition, if a painter is a member of a professional organisation such as Master Painters Australia (Victoria/Tasmania), it is a strong indication a painter takes a professional approach to their work.
If a painter working on your property does not have public indemnity insurance or health insurance that covers them when they are working, you can be held liable for any injuries or accidents that occur on your property or as a result of work they are carrying out on your property.
Painting – ACT
A painting trade licence is not required by law in the Australian Capital Territory. However, you should expect your painter to take a professional approach to their work. They should:
Provide you with proof of their competence. A Level III Painting or Painting & Decorating Certificate, verifiable references, and a portfolio of previous work will show you they work to professional standards.
Be a licensed business or supply you with their ABN.
Be fully insured, including public indemnity insurance.
Although not required by law to be licensed in the ACT, professional painters will voluntarily adhere to the principles that apply to licensed tradies.
Painting - Northern Territory
There is no legal obligation for painters to be licensed in the Northern Territory. To be sure you get professional service and protect yourself legally, be sure the painter you hire is a legal business and is fully insured (including public liability insurance). Painters often work on ladders or scaffolds and accidents do happen. If your painter is not insured, you may be held liable for accidents or injuries on your property or that happen as a consequence of work being carried out on your behalf.
In many counties in the NT, a home improvement licence is required for residential remodelling projects costing between $3,000 and $25,000 (materials and labour included). Check with your local authorities to find out if this applies in the area where you live in the Northern Territory.